New architectural look all thanks to the selection of bright color fabrics
Applications of nonwoven materials are used in great effect in sound diffusion. They are cost-efficient, climate friendly and comfortable.
Sound absorbing MDF Panels with horizontal miled grooves in the top face and holes in the underside which creates Helmholtz resonators.
Built in LED Strip Lights and Concealed Airflow
Building-independent ventilation of the product developed in Germany. Air exchange performed with ambient air.
Heavy Duty Castors & Levelers
Portable pods that can be relocated effortnessly at a different location and levelers to adjust to uneven flooring.
Rounded edges modern German design AH Meyer Netbox Juke with Universal Power socket & USB Charger 3.0 that can also be mounted upside down the furniture.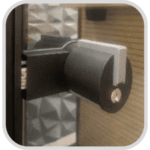 Sophisticated imported modern knob mechanism that is Italian-made and it comes in sleek matt black finishing for that prestigiouos look.
The aluminium profile that discreetly designs the frame and the Italian-made innovative pivot door hinge that allows the door to open 180° making the internal space more usable.
Dimmer to adjust the LED light brightness according to the mood.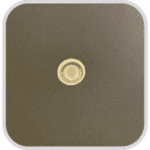 Human motion body sensor auto on and off offering great freedom of access and movement.